As the year draws to a close, we start to see an influx of posts talking about what marketers, SEOs and small businesses can expect in 2015. Although these articles do a good job of predicting the year-over year evolution of online marketing, they don't tell us much about the long-term trajectory of things – and that's what really matters. If businesses want to ensure long-term success, they need to be agile, adaptable and proactive.
It's crucial for business owners to have a solid understanding of what tactics and strategies are driving sales and creating customers. However, it's equally important that they understand how emerging trends will shape the future of their business. Since most businesses are laser-focused on ROI, they usually don't consider how their current efforts could potentially impact their brand several years down the road.
When we look at how online marketing has evolved over the past decade or so, we can get a better idea of where it's all going. One thing that we've learned by now is that organic SERP real estate is shrinking fast – something Google has received a lot of criticism for in recent years. Some have even accused Google of reducing organic visibility to pressure businesses into using paid ads. Whatever their reason may be, the reality is that traditional organic results are slowly becoming extinct. Between paid ads, local packs and now the Knowledge Graph, it would seem as if the problem is only getting worse.
Each year Rand Fishkin lists some of his top SEO predictions for the upcoming year. In 2014 he predicted that we might see Google test SERPs with no external, organic listings. Although we haven't seen this happen yet, when you consider some of the newer Google initiatives, such as Knowledge Graph, visual ads and instant answers, I don't doubt that this could potentially roll out within the next year or so. If it does, what will this mean for businesses that rely on Google for a steady flow of organic traffic?
For starters, it's important to remember that Google is designed for users, not websites. Search engines reserve the right to display search results however they see fit, regardless of how it impacts businesses. Since Google is all about giving users what they want, SERPs are evolving to align more with user intent. This means providing the best result in as few steps as possible. If Google can provide this information without the user having to sort through 10 results, they've already achieved their goal. But what does this mean for the sites supplying the content?
If you search Google for "symptoms of hormonal imbalance" the first non-paid result is a Knowledge Graph box containing a bulleted list of symptoms. You'll notice that beneath the list there is a source url.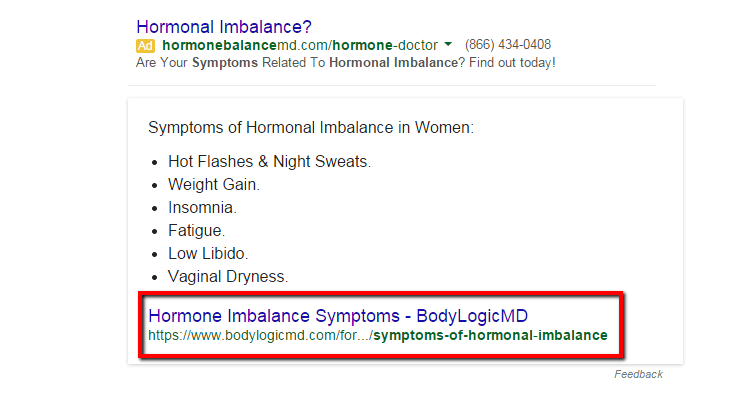 If you click on the source url, you'll see that the content displayed by the Knowledge Graph is pulled directly from the source content.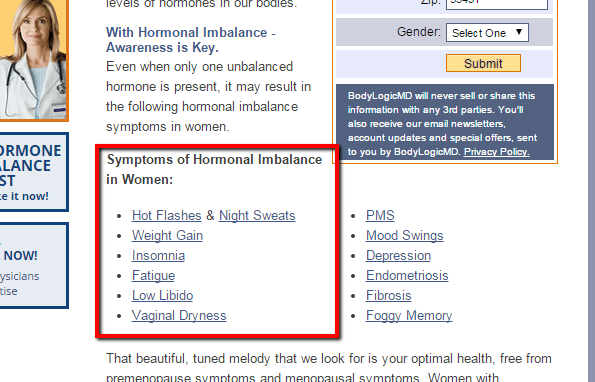 This is an example of how Google is already using information published by 3rd parties to answer a user's search query within search results. In some ways it seems shady for Google to use intellectual property from 3rd parties to suit their own purposes – especially when it could mean less traffic for the sites publishing the information. But when you consider the free, organic traffic that Google provides for most businesses, it kind of seems like a fair trade-off. Although in this particular instance Google provides a link back to the source, many would argue that if Google answers a user's query within search results, the user would be less likely to click-through to the website. Here's where things get interesting.
The screenshot below shows the SERP (excluding paid ads) for "symptoms of hormonal imbalance. What I find interesting is that the page that this information is pulled from actually ranks #3 organically. This suggests that Google has a different set of standards for instant answers and Knowledge Graph results than they do for traditional, organic listings.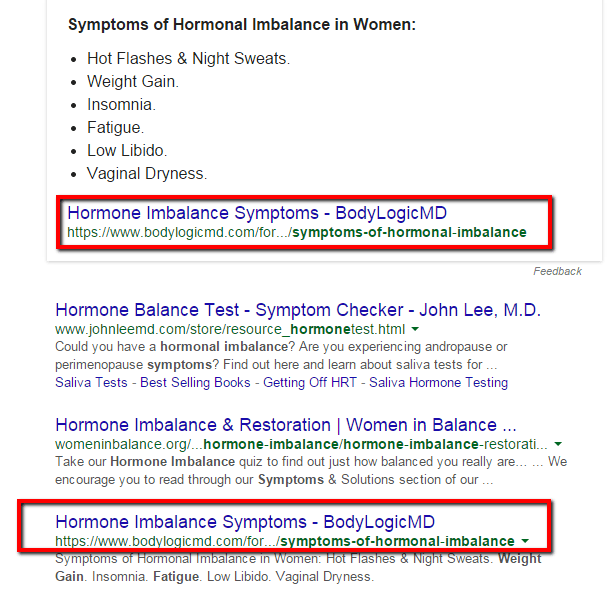 In my experience, Google seems to favor authority factors when vetting web pages to display in traditional, organic SERPs. Authority factors include the number and quality of back links, social engagement, local citations and other signals that tell Google how trustworthy a site is. When we look at instant answers and knowledge graph results, Google seems to be focusing more on utility and presentation. Utility refers to how effective the content is at answering a user's question and the presentation refers to how easy it is to digest the information. This makes a lot of sense when you consider Google's company philosophy, where they state that their goal is to have people leave their website as quickly as possible. But what if that means lower CTR for the sites supplying the information?
This is a concern for many SEOs and site owners who have watched Google gradually chip away at organic search real estate over the past decade. Like most service-based businesses, the only way that BodyLogicMD benefits from providing users with information is when it helps to drive conversions. In this case, a conversion would be a visitor filling out a contact form to be contacted by BodyLogicMD's sales team. If someone is searching for "symptoms of hormonal imbalance" because they're working on a research paper, it's safe to assume that Google displaying the symptoms within search results would have little to no impact on conversions. This is where semantic search functionality comes into to play. Google is getting better at being human. More specifically, Google is improving its ability to understand the context behind search queries in order to serve results based on user intent.
Ultimately, website owners and users are both looking for the same thing. Businesses want to connect with an intent, target audience and users want to connect with brands that can provide them with the products, services and information they're looking for. Google's mission is to streamline the process. Yes, Google is primarily built for users, but in most cases, when the user wins, businesses win, too. Instead of worrying about losing organic visibility, businesses should focus on how they can leverage some of Google's newer initiatives that are now encroaching on organic results. This means doing things like improving local SEO factors, optimizing Google My Business listings and publishing content that Google would see as being worthy of used for instant answers and knowledge graph results.
Image Credit: Flickr User Robert Scoble