Mobile optimization and mobile-first design have been popular topics for SEOs and web developers over the past few years. As mobile usage increased, more and more businesses switched to responsive and adaptive designs to improve the user experience on tablet and mobile devices. A little over a year ago, in an effort to improve the search experience for mobile users, Google announced that they would start demoting sites that weren't deemed mobile-friendly.
In order to be considered "mobile-friendly," sites must meet the following criteria:
Avoids software that is not common on mobile devices, like Flash
Uses text that is readable without zooming
Sizes content to the screen so users don't have to scroll horizontally or zoom
Places links far enough apart so that the correct one can be easily tapped
In addition to demoting sites that aren't optimized for mobile, Google will start to reward those that are mobile-friendly with a rankings boost. As many SEOs have long speculated, Google has finally worked mobile optimization into their core algorithm as a ranking signal. Google hasn't made it clear as to how much of an impact it will have, but they did say that sites that meet the mobile-friendly criteria would be eligible for a special "mobile-friendly" label that would appear next to their web pages in search results.
Here is an example of how the label displays in search: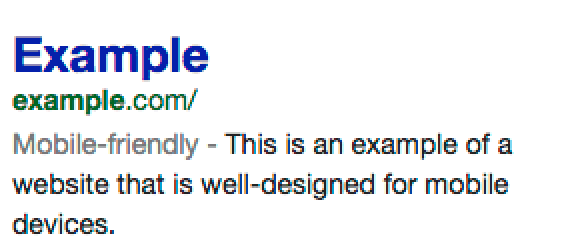 It will be interesting to see how much of an impact the new label has on click-through rates, especially for eCommerce sites as we approach the holidays. In 2013, mobile sales were more than 17 percent of total online sales for Cyber Monday — that's up nearly 56 percent from 2012. We can expect this number to be much higher this year, since smartphone usage was estimated to grow by 25 percent in 2014.
Since Googlebot is now capable of seeing exactly what users see, Google is much better at evaluating mobile UX. To get started, I would recommend checking out Google mobile-friendly guidelines. You can also use Google's mobile-friendly testing tool" to see how your website displays on mobile devices. If you don't have the budget to hire a professional web design company, Robert Mening put together some awesome guides that can help you build it yourself!
Image Credit: Flickr User Johan Larsson