I get a lot of questions from clients about video SEO, specifically YouTube marketing. Now that video snippets are disappearing from search engine results, I thought it might be a good time to discuss some of the ways brands can leverage YouTube for video SEO. To start, let's take a look at the current state of video marketing.
There are several theories as to why video thumbnails are vanishing from search results.
Theory #1 – Data suggests that Google might be removing all non-YouTube snippets from search results: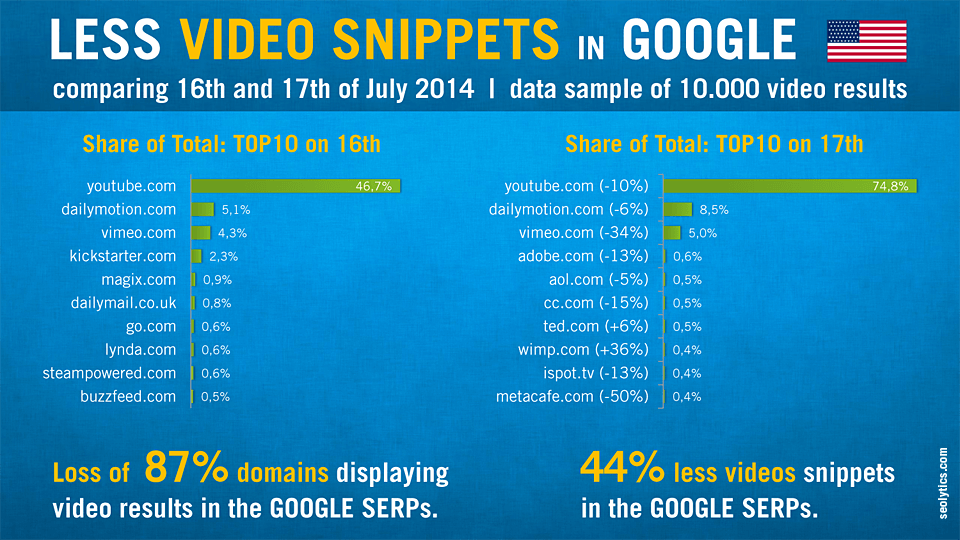 Theory #2 – Phil Nottingham of Distilled thinks it might be something as simple as an index refresh:
@wistia @chadgingrich @Moz Could just be an index refresh. I wouldn't go too crazy with assumptions just yet 🙂

— Phil Nottingham (@philnottingham) July 16, 2014
Theory #3 – Wistia said it could be how prominently a video is displayed on a page.
@chadgingrich @philnottingham @Moz *might* be a change regarding how prominently a video is displayed on the page: — WISTIA (@wistia) July 16, 2014
With over 1 billion unique monthly visitors, YouTube stands as the second largest search engine on the web. So regardless where video snippets are heading, you can rest assured YouTube will be a huge player in video SEO going forward – especially for Google. This post is aimed at helping local business owners boost their presence on YouTube, without getting into all the nitty-gritty technical details.
Here are are some viewership stats, courtesy of YouTube.
Over 6 billion hours of video are watched each month on YouTube—that's almost an hour for every person on Earth
100 hours of video are uploaded to YouTube every minute
80% of YouTube traffic comes from outside the US
YouTube is localized in 61 countries and across 61 languages
According to Nielsen, YouTube reaches more US adults ages 18-34 than any cable network
Millions of subscriptions happen each day. The number of people subscribing daily is up more than 3x since last year, and the number of daily subscriptions is up more than 4x since last year
Here are 5 basic tips for boosting your YouTube SEO
#1 Optimize your descriptions for search
In the future, YouTube and other search engines may gain the ability to decipher and process the content within a video. But as it stands now, the only way YouTube can understand what a video is about is by using your titles, tags and descriptions as a guide. Titles and tags are pretty straight-forward – your title should tell the user, or in this case YouTube, what your video is about, and your tags should include some supporting topics that are relevant to your video. Video descriptions on the other hand are oftentimes misunderstood. Video descriptions are not just for the user, but also for search engines. Descriptions are your opportunity to provide a more in-depth summary of what your video is about. If you don't have the time or resources to create keyword-rich descriptions, you can always transcribe your videos and use the video transcripts as your descriptions. Transcription services are relatively inexpensive and it's also an easy way to generate some fresh, unique, crawlable content.
#2 Share your videos everywhere you can
Videos are great way to connect consumers with your brand. Simply put, videos are more interesting than traditional content and they allow brands to be more creative in how they feature products and services. Some studies have suggested that users who watch a video are 64 percent more likely to make a purchase online. But in addition to improving the user experience, and boosting conversion rates, embedding videos on your website or blog can get you a lot more views and potentially improve your video rankings on YouTube. Each video is ranked based on several different factors, a lot like pages are ranked on the web. Certain engagement metrics such as views, inbound links, social shares, likes, comments and even the number of minutes watched, are all considered when ranking a video for a particular keyword or search query. In this case, higher visibility typically begets higher engagement. So in theory, by embedding your videos as much as possible, be it on your website, on social media or even email, your videos will likely rank higher in search results.
#3 Build your channel authority
In some ways, your YouTube channel is a site in and of itself. Just like your website or blog, your YouTube channel carries a page authority. In this case your page url would look something like this: http://www.youtube.com/user/CHANNEL_NAME. By linking to your channel from either your website, blog or social media profiles (providing they're "dofollow" links) you can pass link equity to your channel url, thereby increasing your page authority. When linking to your channel, make sure that you include the "user" url parameter. If the user parameter is missing (like this: http://www.youtube.com/CHANNEL_NAME) the url will still redirect to the default format (http://www.youtube.com/user/CHANNEL_NAME), but the link value is not passed through the redirect. So in order to ensure that you're maximizing your link equity, you should always use the default url that includes the "user" prefix. There is strong correlation between authoritative channels and higher rankings for video search results.
#4 Drive engagement – not sales
YouTube is a great platform for building brand awareness. But I wouldn't recommend using YouTube to drive sales. At this year's Mozcon conference, Phil Nottingham said that "if Google were a shopping mall, YouTube would be more like a library." Unlike Google, consumers don't typically visit YouTube with the intent to make a purchase. Instead they want to be educated, informed, entertained, etc. Your YouTube videos shouldn't overtly sell a product or service. Instead they should provide your target audience with whatever it is they're looking for. A great way to figure this out is to look through your YouTube Insights data. Here you can see how each of your videos are performing and which videos have the most views, engagement, likes, shares, and so on. If you're just starting out and don't have much channel activity of your own, you could always research competitor channels and filter their videos by "Most Popular" to see their top videos.
#5 Encourage subscriptions
Millions of channel subscriptions occur each day – and that number is increasing more and more, each year. Subscribers are your brand loyalists. You should always encourage viewers to subscribe to your channel so they can enjoy more of what you have to offer – whatever that may be. There are a number of ways you can get subscribers. One of the easiest ways is to add a call-to-action (CTA) in your video description, inviting viewers to subscribe to your channel. You could also use bumpers. Bumpers are short clips that are to display information about the video or company, such as the company name, logo, tagline, etc. You can use bumpers before and after your video. In the closing bumper, you can add a clickable CTA so that at the end of each video, the viewer has the option to subscribe. The other way to get subscribers is using annotations that appear within the viewing area during video play. You can also select the precise moment and duration for the annotations to display. Additionally, you can also use email campaigns and social media channels to drive more traffic to your channel.
Image Credit: Flickr User Jo Nakashima